Mapping the Work & Life Lina Bo Bardi
2021
Work of Lina Bo Bardi & Contemporaries

This diagram draws inspiration from one of Lina Bo Bardi's own art exhibits at the Museum of Art in São Paulo—a building which she also designed. In the exhibit, she places art on custom easels with stereotomic bases and glass vertical platforms. She challenges Western notions of linear time by arraying artworks from various time periods in an adjacent manner.

This version of the exhibit displays notable art and architecture in a seemingly scattered manner, connecting them with underlying strings representing similar themes. Each piece provides context to all other pieces in the gallery.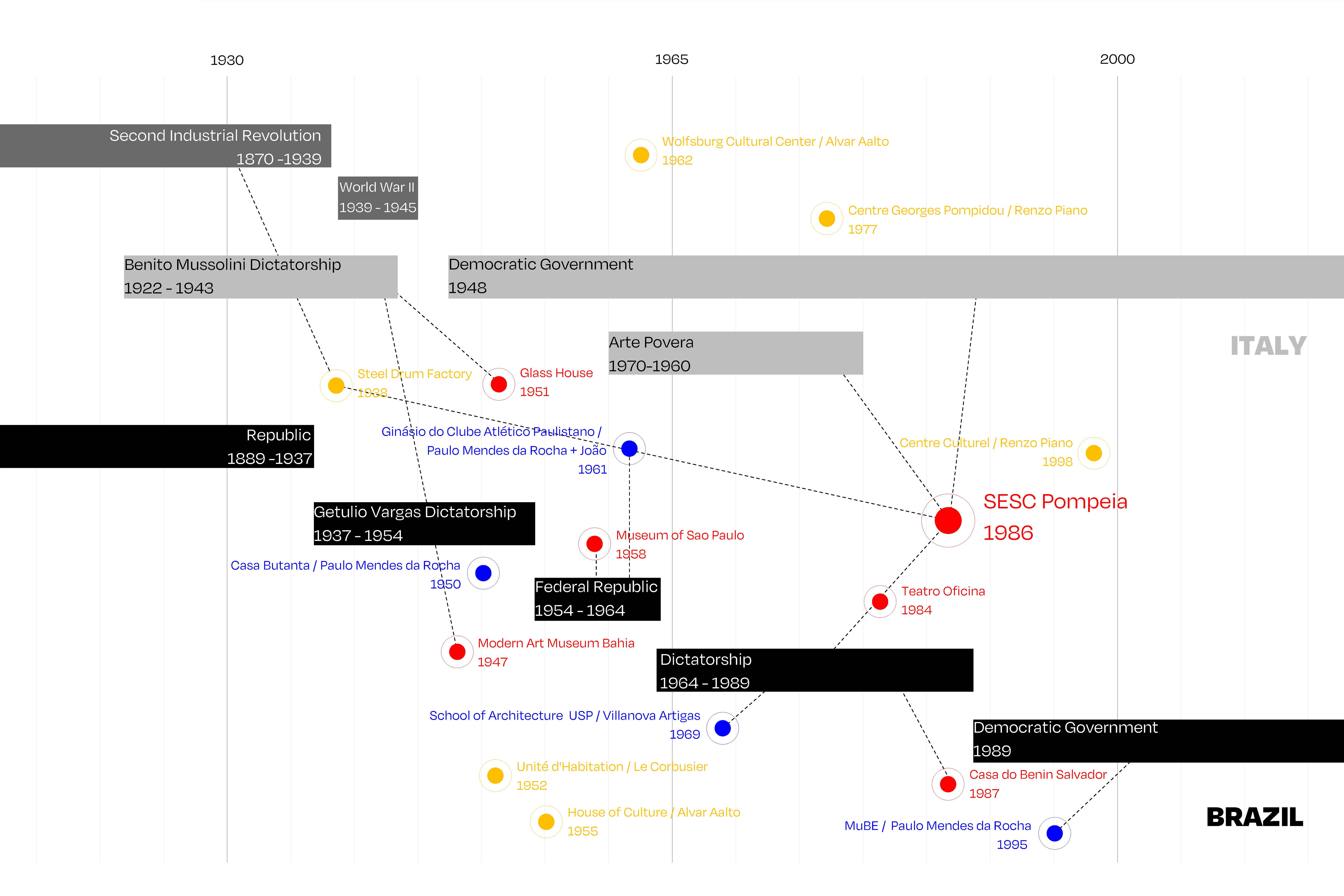 Social, Cultural, Political Influences


This diagram illustrates a connection between the work of Bo Bardi and contemporary historical events in Italy and Brazil, the two places where she lived. Culturally, Bo Bardi draws inspiration from the Italian art movement Arte Povera, characterized by the reuse of existing materials. Socio-politically, at the onset of an emerging dictatorship in Brazil, Bo Bardi changed the trajectory of her work from benefiting private foundations to focusing on the direct interest of the public.
Timeline & Thematics


This diagram illustrates Lina Bo Bardi's life events over time and on a spectrum between Italian rationalism and São Paulo brutalism. The multicolored line connects Bo Bardi's career events and highlights after moving to different cities. After she moved to Salvador, Brazil, she became more closely aligned with São Paulo brutalism.
Trajectory of Work through Space & Time
Bo Bardi's SESC Pompéia in São Paulo represents the penultimate culmination of her trajectory away from rational, universal schools of design in Europe and towards vernacular, climate, and culture specific architecture. After experiencing a fascist regime in Italy and a military dictatorship in Brazil, the SESC Pompeia explores populus-based leisure. The adaptive reuse strategy reflects African-Brazilian cultural tradition to use available resources to build and make. Ambiguous spatial programming allows free movement of people in and around the building, and humble material choice reflects the prioritization of working class functionality.
Thank you to Valentina Mancera for collaborating.︎